Cornerstone Church will be heading to Lake Geneva Christian Center for Jr Teen Camp 2.  This is for Students going into 6th-8th grade in the fall of 2018.  Below are some basic details.
JR. HIGH CAMP BASIC INFO.
Dates: July 16th – 20th

Cost: $265/camper
Students going into 6th – 8th grade
Registration Deadline: Sunday, June 10th
ONLINE REGISTRATION
Registration will be done online here:
Jr. High Camp Registration 2018
All registration will be done online.  Head of households can create a login & password.  All family member can be registered under one username and password.  Students can register for multiple summer camps under one login.   (Kids Camp, Jr. Teen & Sr Teen Camps)  
The benefit of online registration is once you register your student for their first year of camp you will not need to fill out paperwork for the additional years of camp.  You will only need to update any information that has changed from year to year!  WIN! WIN!
Please use the code: CStoneYthCamp  When asked for a youth group registration code. 
All payments will also be done online or via check to the MNAG District Office.  Any question about registration for Jr. Teen Camp please contact our Church office at 507-433-7008. 
SEND A STUDENT TO CAMP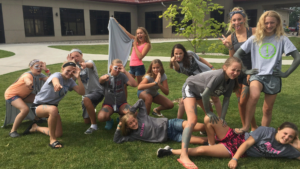 This year, we are looking for 8-16 fifteen passenger van drivers to take students up to camp and bring them home.  Taking vans vs. buses is a more cost-effective mode of transportation.  By volunteering to drive to summer camp is the equivalent to paying for a student to attend camp.  Van drivers must be 21 years old and pass a background check.  If you are interested in sending a student to camp contact us today.
Email: office@cornerstoneaustin.org
Phone: 507-433-7008
SaveSave
SaveSave