We are thrilled that you are here. Maybe you've never attended Cornerstone or maybe you're here checking us out after a recent visit, either way you are new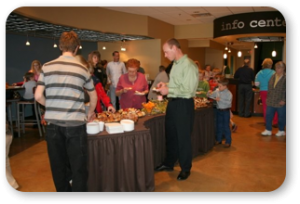 to Cornerstone and that is great! This site will offer you many ways to get a taste of what Cornerstone Church is all about. While a website can be very helpful, it's certainly not a replacement for the actual worship experience that Cornerstone Church can offer you and your family. Feel free to browse the website and email or call us with any questions you have, we hope that you find it to be a fun and informative way to learn more about us.
SERVICE TIMES:
SUNDAY WORSHIP SERVICE: 9:00 a.m. & 10:30 a.m.
WEDNESDAY YOUTH SERVICE: 7:00 p.m.  Students grades 6th – 12th may attend.
LOCATE US:
We are located at 1403 1st Ave SW in the Sterling Shopping Center in Austin, MN.  You can get directions to Cornerstone Church here.
WHAT TO EXPECT:
MUSIC THAT MOVES: Our upbeat live worship band not only rocks but it will move you on the inside too.
MESSAGES THAT MAKE SENSE: The messages at Cornerstone are designed to be taken home and put into action all week.
INTERACTIVE KIDS PROGRAMS:  We use activities, arts & crafts, multi-media, and each other to help them discover who Jesus is in their life.
CASUAL FAMILY ATMOSPHERE: Wear what makes you feel comfortable maybe it's flip flops or carharts or even a suit.  However you like to dress is ok with us as long as you come just as you are.
F.A.Q.
WHAT IS THE DENOMINATION OF THE CHURCH? Cornerstone Church is affiliated with the Assemblies of God.  You can find out our beliefs here:  WHAT WE BELIEVE
DO YOU HAVE A MID-WEEK SERVICE? Yes, Signet Student Ministries meet on Wednesday nights at 7:00 p.m.  Students grades 6th – 12th can attend.  Need more information check out Signet Youth Ministries: HERE.
HOW ABOUT SMALL GROUPS? Yep, we have it.  Our small groups are called LIFEgroups.  They meet two times a year during our Fall Semester and our Winter Semester.  You can read more about LIFEgroups HERE.