Summer is quickly approaching and with that comes Kids Camp.  This year the kids of Cornerstone Church will be heading to Lake Geneva Christian Center for 5 days of summer camp. Below is all the information you need to know to send your child to summer camp.
Kids Camp Basic Info.
Dates:  June 12th – 16th
Going into 3rd-5th Grades
Cost:  $260/camper
Registration Deadline:  Sunday, April 30th.
Registration Forms
Registration packets can be picked up at Cornerstone Church info center during weekend services or during the week Mon. – Thurs. 9-5 p.m.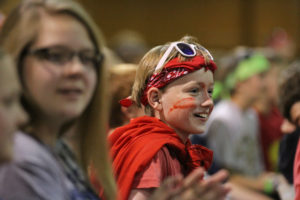 Registration Fee
The Kids Camp registration fee is  $260 per camper.  After Sunday, April 30th the registration fee is $300.  You can pay the fee online by clicking here: Kids Camp Online Payment or by attaching check or cash to the registration form.  Please make all checks payable to Cornerstone Church.
PLEASE NOTE:  If you do pay online we still need a registration form handed into the Cornerstone Church office on or before April 30th.
Parent Resources
You've got questions. We've got answers.  The links below will answer 99% of your questions.  But in case we missed something please contact us at Cornerstone Church. Check out the list below
Drop off and pick up times:  Monday, June 12th- 6:30 am  – Friday, June 16th – Approximately 4-5 p.m.  
What To Bring to Camp – Kids will be allowed 1 suitcase/lg. duffle bag, sleeping bag, pillow & 1 small backpack as a carry-on.
Camp_Schedule – Find out what each day looks like.
Lake Geneva Christian Center Website – Check out the camp's website.
Like Fly Kids Facebook Page.  – We try to share pictures every day so friends & family can enjoy kids camp too.
Fly Kids Instagram. – Just Fly Kids pics, all day, every day.
Mail Address: Your child's name, 605 Birch Ave, Alexandria MN 56308. Parents you can also send mail to your child at camp.  Be sure to send it on Monday or Tuesday so they will receive it before they leave on Friday.
Cabin Roommates
Everyone wants to know who your cabin roommates are gonna be.  First, all kids that attend camp with Cornerstone Church will be rooming with other kids from Cornerstone Church.  Kids camp doesn't have a lot of downtime.  They don't spend much time in their cabins beside bedtime and transitioning between events.  If your child has someone they want to room with who is attending camp please write their names on the registration form.  (there are 2 spaces for that.)  We do our very best to get every kid in a room with at least one requested roommate. If there is someone who is attending camp who you DO NOT want your child to room with please contact Pastor Aaron.  We want to set up every child for success by placing them in a cabin that will work for them.
Team Color
RED! RED! RED!  Our team color is red.  Kids should bring lots of red clothing.  This year EVERY KID will receive a Fly Kids Shirt with their camp registration.  
Parents, don't feel the need to run out and purchase a bunch of red shorts and shirts.  Our counselors will provide a lot of fun ways to participate in team spirit; face paint, hair spray, hats, bandanas, and much more.   If you have something red send it with your kid.
Counselors
We have the greatest counselors at camp.  Each of our counselors comes from Cornerstone Church.  We only bring counselors who have been volunteering in our Fly Kids environments for at least a year.  They are committed to serving them each weekend at Cornerstone Church, not just for the week of summer camp.    Every cabin will have two counselors.  A cabin is made up of 8-10 kids.  That provides us with a very high kid to counselor ratio.  All counselors have had background checks and pastor recommendations.  It's pretty much the BEST of the BEST.
Kids Camp Promo Video

Registration packets can be picked up at the Church office.  If you have any questions or need more information about Kids Camp please contact Pastor Aaron by calling the church office: 507-433-7008 or by emailing him at aaron@cornerstoneaustin.org