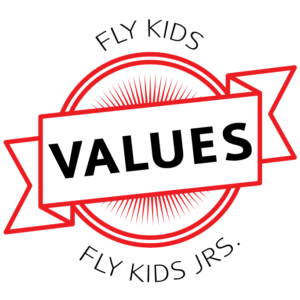 We love small groups!  Small group leaders & teachers are the heartbeat of our Fly Kids environment.  We value the relationship that your child will make within our classrooms and small groups.  Over time, this realtionship is key to helping kids establish an authentic relationship with God.
Kids love fun! We realize that when kids have fun at church, they can't wait to come back. We value creating fun ways for kids to learn about Jesus, including games, activities and music.
We love bringing Biblical stories to life through activities and stories that keep children engaged. We want kids to love God's word and understand the value of applying it to their lives.  We believe our large group interaction is key to helping kids establish an authentic relationship with God.
Our environments and our lesson materials are designed in a way to maximize student's ability to learn.  We know that every phase of a child's life is different and we want to leverage those phases to help build a strong foundation.
Each child's name tag is matched to a parent-identification number, every volunteer is screened with an interview and background check, and every hallway is monitored by our guest services team. We value your child's saftey.
We value volunteers.  Without our volunteers, there would be no Fly Kids.  Our volunteers are passionate about serving your child.  It's also interesting to note that those who volunteer on a regular basis show rapid personal growth in their relationship with Jesus and a sense of community with those they serve alongside.