SR. HIGH SUMMER CAMP
Cornerstone will be attending Lake Geneva Christian Center in Alexandria, MN for Sr. Teen Camp.  Below is all the information you need to know to send your high school student to summer camp.
SR. HIGH CAMP BASIC INFO.
Camp dates: July 22nd – July 27th
Speaker:  Scotty Gibbons
Fee with T-shirt option:  $307.00
Fee without T-shirt option:  $295.00      
Deadline: June 17th (Payments made after this date will incur a $50 late fee)
 PLEASE NOTE:  All camp registration fees are only payable at Cornerstone Church.
ONLINE REGISTRATION
When registering your student, it will as for a "GHR" code (this will associate you as a student going to camp with Cornerstone Church). 
Please enter GHR code: CStoneYthCamp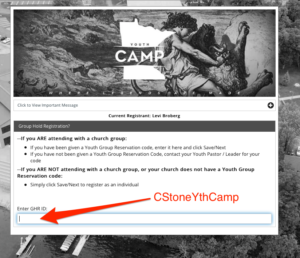 Summer Camp Registration
PLEASE NOTE:  All camp registration fees are only payable at Cornerstone Church. 
SCHOLARSHIP FORMS
Cornerstone Church offers a limited amount of partial scholarships. Applications can be picked up at the information center during weekend service times, Wednesday evenings after HSM services, or during open hours on the week days. You can also download the form via the link below.
PARENT RESOURCES
You've got questions. We've got answers. The links below will answer 99% of your questions. But in case we missed something please contact us. Check out the list below.
What to Bring to Camp – Students will be allowed 1 suitcase/lg. duffle bag, sleeping bag, pillow & 1 small backpack as a carry-on.
Lake Geneva Christian Center Website – See where your child is going.
HSM Instagram – Just HSM pictures. It's a good way to know what is happening with your high schooler.
HSM Facebook Fanpage – Lots of pictures, videos & general information about High School Ministry.
CHECK-IN & DROP-OFF INSTRUCTIONS
* Drop off and pickup at Cornerstone Church, Austin, Mn
Drop off: 6:00am Monday July 22nd.  Pick up:
 

4:00pm – 5:00pm Friday July 27th

 

Please use a sharpie & masking tape when labeling all your child's luggage & possessions.  When labeling add your child's full name along with Cornerstone Church. 

Special Note: If you child uses an inhaler or any other urgent medication please inform our volunteers at our medication table so they can inform the correct counselor. Students are to keep their own rescue inhalers while at camp. 
SENIOR TEEN CAMP FAQ
What to Bring to Camp?  1 medium suitcase, 1 small carry on, 1 sleeping bag, & 1 pillow. Please label all of your kids luggage, sleeping bags,back packs, etc.
How Should I Pack Medication?   Medication MUST BE in original labeled pill bottle/container. Place all medications in a large zip lock bag with your student's name on the outside.

 

What about Spending Money?  Students will be in charge of their own money until they get to camp. Once at camp, they will be utilizing the camp bank for safe keeping. They will have access to the camp bank to withdraw the money throughout the camp week.

 

•What about electronics?   Yes, your child can bring their, iPod, phone, tablet for the ride to and from camp.  We will collect their electronics once we arrive at camp.  We will return them to them on the ride home from camp. Please label them with their full name and counseling group number. We will not charge electronics while storing them throughout the week, so please remember portable chargers if needed.
CABIN ROOMATES
Everyone wants to know who their cabin roommates are gonna be. First, all students that attend camp with Cornerstone will be rooming with other students from Cornerstone. All cabin assignments are done by Lake Geneva Camp Administration, not by Cornerstone Church. If your student has a friend they want to room with please write their names on the registration form. The camp staff does their very best accommodate campers and their friends.
TEAM COLORS
Youth camp team colors will be posted HERE by noon the Saturday, July 20th. The list will be sorted alphabetically by their last name. Changes are not permitted. Unfortunately team colors for Sr. High Camp is not set ahead of time and may or may not be the same color as last year. Team colors are also set by Lake Geneva Administration.
CONTACT
If you have any questions? Please call the Church office at 507-433-7008.
SaveSave
SaveSave
SaveSave