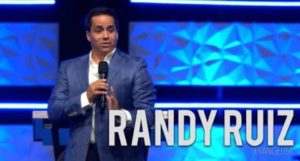 Join us for services on April 21st & 22nd with guest Randy Ruiz!  Randy will be speaking in all our regular weekend services.
Weekend Service Times
Saturday at 5:00 p.m.
Sunday at 9:00 a.m.
Sunday at 10:30 a.m.
SPECIAL SERVICE on Sunday, April 22nd @ 6:00 p.m.
Childcare will be provided for kids birth to 4th grade.  Check-in is available at our guest services desk in our Next Generation wing.  You can read more about our kid's environments & check-in HERE.
You can read more about Randy Ruiz here: Randy Ruiz Ministries
Take advantage of this great opportunity to grow in Christ! We'd love to see you!
SaveSave