We are called to serve others.
Galatians 5:13 says, "You, my brothers and sisters, were called to be free. But do not use your freedom to indulge in the flesh; rather, serve one another humbly in love." (NIV)  The Bible tells us that even Jesus himself came not to be served, but to serve others. (Mark 10:45, NIV)
And yet, often times, serving can feel like such a chore.  It's easy to find excuses to not want to serve.  It's time-consuming, it can be exhausting, and we wonder sometimes if it's really worth our effort.
But where God calls, He always provides.
Here are a few practical steps to help us as we navigate our God-given call to serve.
1. Schedule it.  
It may sound strange but schedule your serving time.  
A lot of volunteer roles at churches or in your local community will have a begin date and an end date.  Put it on your calendar, like you would anything else that you've committed to.  By doing this, you are placing value upon it.  We tend to show up for the things that we have scheduled time for.  Most service positions are willing to work with your schedule.  Take a  look at your calendar and let them know ahead of time when you will be unavailable.  This allows them time to fill your position and it also makes serving feel more manageable knowing that when necessary, you can miss a time or two.
2.  Use your gifts.
Use the gifts that God has already given you to serve others.  
1 Peter 4:9-10 says, "Be hospitable to one another without complaining.  Just as each one has received a gift, use it to serve others, as good stewards of the varied grace of God."
God has given each of us unique gifts, talents and abilities.  If you're unsure what your gifts may be, try to think of what it is that you enjoy doing.  Often times, your gifts will line up with what your passions and interests are. If you enjoy working with young kids and students, there are a wide area of service opportunities for you to choose from here at Cornerstone Church.  Talk to a pastor and get plugged in somewhere.  If kids aren't really your cup of tea, then there are a number of other opportunities including being a part of our greeters team, usher team, hospitality team or worship team.  As pastor Dave Simerson often says, "Do something, not nothing."
3. Use His strength
We can serve from the strength that God provides.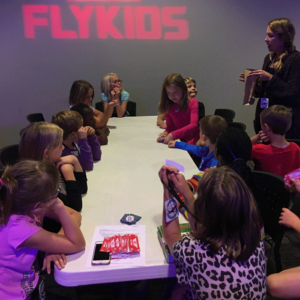 So often we use the excuse of being tired when it comes to serving. But ask anyone who has been serving consistently and they will tell you that serving can also be very life giving.  There have been countless times when I have left my house feeling exhausted, headed to church to serve, wondering how I'm ever going to make it through only to discover that by the end of the service I feel energized!  I leave feeling inspired, like I made a difference in someone's life.    
1 Peter 4:11 says, "If anyone speaks, let it be as one who speaks God's words; if anyone serves, let it be from the strength God provides, so that God may be glorified through Jesus Christ in everything."  God provides the strength we need to serve and all the glory goes to Him.
I believe that as we schedule our serving time, use our gifts, and use His strength, we will experience the fullness that God intended for us as we serve one another in love.  When we give of ourselves, our time and our resources to serve those around us, God is faithful to fill us back up and provide all that we need.
---
written by: Jessica Broberg
jessicabroberg.com